MAC Electricians offer ring doorbell and associated security product installation. We offer installation in Telford, Shrewsbury & rural Shropshire areas!
Contact us today for a quote! We can offer bespoke packages depending on your needs and requirements or simply come out and install your New door bell for you, offering you peace of mind that your property is secure when your not there! We supply and fit Ring Doorbells with a follow up guarantee should you have any technical questions!
Door bell installation by fully qualified electricians with all of the know how and best tips to get your Security system tailored to your property!
Ring doorbells are not just suitable for domestic installation, they can be fitted to business premises too, offering you extra protection and allowing you to answer alerts if there is no one on the premises from wherever you are! Highly convenient and often more cost effective than a traditional cctv setup!
If needed, we can source products for you directly from suppliers ensuring you the most cost effective way of securing your home!
---
Why Ring Doorbell Installation?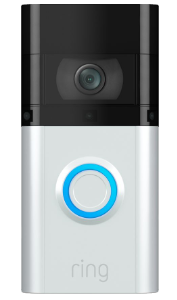 Ring video doorbells and security cameras help you build a ring of security around your home, allowing you to watch over your entire property from your phone, tablet or PC.
Ring sends instant mobile alerts whenever motion is detected at your home. Answer the alert and you can see, hear and speak to people on your property from anywhere. With Ring, you'll always have smart home security at your fingertips. Because with Ring, you're always home!
---
Some examples of additional security features that. ring doorbells can be paired with include
Spotlight Cameras: Add security anywhere you need it with spotlight cams. Featuring HD video, two-way talk, lights and sirens, you can monitor your property from anywhere.
Floodlight Cameras: See security in a whole new light. Protect your property with the first motion-activated HD camera with two-way talk, built-in floodlights and a siren.
Ring Accessories: From solar chargers and doorbell chimes to battery packs and more, our lineup of custom accessories lets you get the most out of your ring of security
Contact us today to ensure your home is as protected as it can be!